other titles...
See also...
cd / lp
Shockwave
One of Us
Once
Now that I've found you
Halo
Why me? Why not.
Be Still
Alright Now
Meadow
The River
Gone
deluxe cd
Gone
Invisible Sun
Misunderstood
Glimme
collector edition 12"
Invisible Sun
Misunderstood
Glimmer
Once (Original Demo)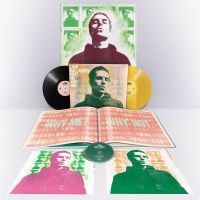 Liam Gallagher
Why Me? Why not.
warner records
our kid's back with a robust body of original songs and every one of them zips along at a thrilling pace.
He's made a typically full-throttle return. "It is HEA-VY. Like heavy, as in makes you wanna, it's like a bulldozer man. Heavier than that. Then there's one called 'Once' which is more of a ballad-y kind of a Pink Floyd, Bowie kind of thing which is mega". Liam wrote lead single 'Shockwave' with two of the key collaborators behind the all-conquering 'As You Were' album. "buoyant second solo album from liam 2.0 […] gallagher's voice carries everything, sounding fantastic, high and bright in the mix" 4/5 – mojo.