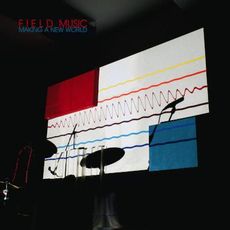 Sound Ranging
Silence
Coffee or Wine
Best Kept Garden
I Thought You Were Something Else
Between Nations
A Change of Heir
Do You Read Me?
From a Dream, Into My Arms
Beyond That of Courtesy
A Shot To the Arm
A Common Language Pt 1
A Common Language Pt 2
Nikon Pt 1
Nikon Pt 2
If The Wind Blows Towards The Hospital
Only In a Man's World
Money Is a Memory
An Independent State
Field Music
MAKING A NEW WORLD
Memphis Industries
Field Music have been busy! Not content with the current state of affairs, they have set about 'making a new world' and, oh my, have they made a fantastically quirky world of pop majesty or what?!
This 19-track song cycle about the after-effects of the First World War - but this is not an album about war and it is not, in any traditional sense, an album about remembrance.
There are songs here about air traffic control and gender reassignment surgery. There are songs about Tiananmen Square and about ultrasound. There are even songs about Becontree Housing Estate and about sanitary towels. From ballads to funky stomps, Field Music take us on quite the journey.