sports team
deep down happy (OUTSTORE album bundle - chalk)
island
---
**outstore event update posted - 13th july 2021**

new date: monday 16th August 2021
Chalk, Brighton

SOLD OUT
hurray!!! we can finally confirm a re-rescheduled date for this long-overdue show. the band & label & management have worked super hard to make sure they could still deliver on the promise of these shows for you hardcore fans & we are delighted that they have.

your place on the guestlist remains in place & we will contact you nearer the date of the show with confirmation of the running times & any venue procedures that you will need to follow.
thanks so much for your patience and understanding.

TICKETS WILL NOT BE POSTED. You will receive an E-ticket from SeeTickets a few days in advance of the show.

---
Unruly and utterly charming, Sports Team are a band of six singular characters who have been variously described as one of the most raucous, electrifying and chaotic acts in the UK. 'Deep Down Happy', their debut album, is out on the 5th June & to celebrate, they are playing this special event in Brighton! Following our love for their acclaimed singles & EPs, we couldn't be happier to have booked this event.
Now signed to the legendary Island Records label, Sports Team originally came up on the back of word of mouth live hype, drawing round the block queues to chaotic early gigs at The Five Bells and Moth Club before releasing any music. The band have consistently set themselves apart from the acts they came up playing with, showing an intoxicating ambition & if their live shows to date are anything to go by, we are going to be in for something very special
---

TERMS AND CONDITIONS

* please read the following before placing your order
1. This event will not have printed tickets. When you purchase a ticket, you will be agreeing to us passing on your details to the venue in order for them to send you an e-ticket a few days before the event. This will be a one-off occurrence and your details will not be retained. If you do not want this to take place, please contact us as soon as you place your order on [email protected]

2. You will receive an automated confirmation that your order has gone through, followed by another confirmation within 24 hours once we've added you to the guestlist (please double check your email address is correct when placing your order and check your SPAM folder before contacting us if you don't receive this confirmation).

3. You will be able to collect the album from the shop from Friday 19th June 2020 after 9am.
- If for any reason you choose to have your CD or record posted to you, please be aware that we will aim to have it with you for release day but we will be at the mercy of couriers and the Royal Mail so we would advise collecting it from the shop or venue

- Tickets are not physical and the veune will issuing E-tickets. If you plan on ordering a ticket only option (although be aware that the signing will be for albums only), please select 'pick up in shop' as your checkout option.

4. Please read any subsequent communication you receive from us in case we need to notify you of any changes to the advertised show.

5. We cannot change any names on the guestlist after Thursday 12th August 2021.

6. We cannot process any exchanges or refunds for your album after the event.

7. All physical copies of the album need to be collected from Resident (27-28 Kensington Gardens, Brighton) by 30th August 2020 as we do not have room to store stock long term. Any items uncollected by this date will be disposed of (in a kind & ethical manner!) – or more likely donated to a good cause.

8. Please arrive in plenty of time to get into the venue (there may be queues), buy a drink, put your coat in the cloakroom etc. Sports Team will be on stage promptly.
9. As this is a 14+ event, please bring ID if you think you might need it to get served at the bar.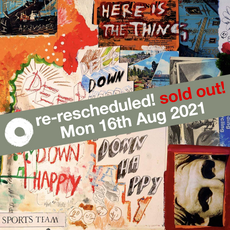 Tracklist
Lander
Here It Comes Again
Going Soft
Camel Crew
Long Hot Summer
Feels Like Fun
Here's The Thing
The Races
Born Sugar
Fishing
Kutcher
Stations Of The Cross


***TICKETS WILL NOT BE POSTED / PLEASE SELECT THE PICK UP IN SHOP OPTION (but no need to collect anything from the shop as you will receive an E-ticket from SeeTickets a few days in advance of the show.