Brigid Mae Power
Head Above The Water
fire records
---
For her third album, Power has rubbed the shoulders of country and traditional folk together to create a delectable juxtaposition of threads.
'head above the water' is a coming of age opus featuring a ground-breaking amalgamation of traditional folk and country - an engaging blend of strings, bouzouki, piano and Brigid Mae Power's distinctive vocal make this an achingly beautiful body of work. BMP paints expansive songs that are effortless, hypnotic and folk-oriented like judee sill, bill callahan and sharon van etten, but with this release she has delved into a world that is more ethereal, more personal and even more alluring. "Power takes the intimate details of her life – the small moments that change everything – and gives them a certain grandeur." 4/5 - Irish Times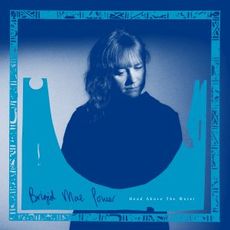 Tracklist
On A City Night
Wearing Red That Eve
Wedding Of A Friend
Not Yours To Own
I Was Named After You
We Weren't Sure
You Have A Quiet Power
I Had To Keep My Circle Small
The Blacksmith
Head Above The Water
fire bonus sampler "baptism of fire"
2021 Preview
1. Rats On Rafts - Tokyo Music Experience. Taken from their new album 'Excerpts From Chapter 3: The Mind Runs A Net Of Rabbit Paths', out on January 29th 2021
2. Jane Weaver - Revolution Of Super Visions. Taken from her new album 'Flock', out on March 5th 2021
3. Virginia Wing – I'm Holding Out For Something. Taken from their new album 'private LIFE', out on February 2nd 2021
2020 Revue
4. Faten Kanaan - Patagonia Motet 1: Lago. Taken from her latest album 'A Mythology Of Circles', out now
5. Dead Famous People - Dead Bird's Eye. Taken from their latest album 'Harry', out now
6. The Black Lips – Locust. Taken from their latest album 'Sing In A World That's Falling Apart', out now
7. RVG - Little Sharky & The White Pointer Sisters. Taken from their latest album 'Feral', out now
8. Throwing Muses – Bywater. Taken from their latest album 'Sun Racket', out now
9. Islet – Caterpillar. Taken from their latest album 'Eyelet', out now
10. Pictish Trail - Lead Balloon. Taken from their latest album 'Thumb Worl', out now
11. Brigid Mae Power - Head Above The Water. Taken from her latest album 'Head Above The Water', out now
12. Josephine Foster - The Wheel Of Fortune. Taken from her latest album 'No Harm Done', out now
13. Modern Studies – Jacqueline. Taken from their latest album 'The Weight Of The Sun', out now
14. Tobin Sprout - Breaking Down. Taken from his latest album 'Empty Horses', out now
15. Half Japanese - Wondrous Wonder. Taken from their new album 'Crazy Hearts', out on December 4th 2020
Exclusive
16. Brigid Mae Power - Leavin' On Your Mind
17. Modern Studies – The Failing Light
18. Islet - Geese (Gwenno Remix). Remix from their highly praised album, 'Eyelet'