RAMONES
It's Alive II (rsd 20)
Rhino Warner
---
Special Edition break-out from the Ramones "It's Alive" 40th Anniversary release.
Alive II includes one show recorded in the UK - Live at Victoria Hall, Stoke-On-Trent, Staffordshire, Dec, 29, 1977 - prior to the original New Years' Eve live performance recorded at the Rainbow Theatre, Dec, 31, 1977. It's Alive II has been mixed by original Ramones engineer and producer Ed Stasium.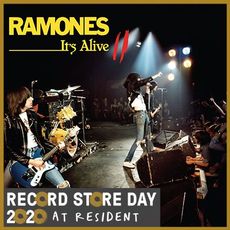 Tracklist
Rockaway Beach
Teenage Lobotomy
Blitzkrieg Bop
I Wanna Be Well
Glad To See You Go
Gimme Gimme Shock Treatment
You're Gonna Kill That Girl
I Don't Care
Sheena Is A Punk Rocker
Havana Affair
Commando
Here Today, Gone Tomorrow
Surfin' Bird
Cretin Hop
Listen To My Heart
California Sun
I Don't Wanna Walk Around With You
Pinhead
Do You Wanna Dance
Chainsaw
Today Your Love
Tomorrow The World
I Wanna Be A Good Boy
Suzy Is A Headbanger
Let's Dance
Oh Oh I Love Her So
Now I Wanna Sniff Some Glue
We're A Happy Family.