Orla Gartland
Why Is Freckle Season LikeThis?
Orla Gartland
---
Orla Gartland's debut vinyl release contains both her 'Why Am I Like This?' and 'Freckle Season' EPs along with an acoustic version of single 'Figure It Out' and exclusive new song 'Don't Fall In Love With A Musician'.
Gartland is a Dublin-born, London-based artist who has amassed over 60 million streams across Spotify, Apple Music and Youtube. This vinyl release includes singles 'Why Am I Like This?' and 'Did It To Myself' (as featured in Normal People). Orla has a passionate and engaged following and is known for her 'existential pop' songs and relatable lyrics. As well as writing her own songs, Orla now co produces her material; she's a truly talented and exciting new artist.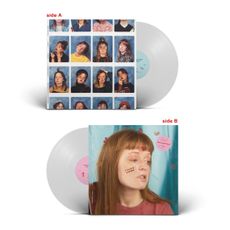 Tracklist
Why Am I Like This?
Flatline
Inevitable
Overthinking (Demo)
Don't Fall In Love With A Musician
Did It To Myself
Figure It Out
Heavy
oh GOD
New Friends
Figure It Out (Acoustic)