other titles...
See also...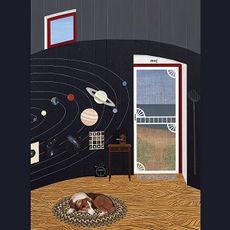 Pine Trees
Silver Ladders
Til A Mermaid Drags You Under
Sometimes He's In My Dreams
Chop on the Climbout
Don't Look
Thirty Tulips
dinked edition 60

- sand colour lp*
- sheet music for title track 'silver ladders'*
- numbered*
- download code
* dinked exclusive
MARY LATTIMORE
Silver Ladders
ghostly
Where albums from Erland Cooper, Hania Rani and Julianna Barwick have left us (& many of you) besotted this year, ready yourself for the impact of Mary Lattimore.
'Silver Ladders' will demand that you really do "find time for yourself" - an almost medicinal gift at a time the healing nature of music is at its most palpable.

Ghostly International are one of the most important labels for pushing the boundaries of electronica. With the new album from the Los Angeles-based harpist Mary Lattimore, they have unleashed an almost unattainable beauty. It takes the 'Ambient' genre and sculpts a new form of simplicity – but one that remains entirely engrossing.

The harp is an instrument that instantly conjures such regal sounds. Lattimore manages to harness its raw simplicity, carving something so much fuller & captivating. It's a deeply mature tool which resonates at frequencies most of us aren't used to feeling. And feel it we should. Like walking into the grand hall of a modern art gallery and being confronted by a 10ft Rothko painting, you don't say 'Oh, that's nice'. You stare into the cavernous depths, majestic palette and really lose yourself to its grandeur.

Mary Lattimore has been gaining quite a reputation across her solo work, her collaborations & her guest appearances. She has released collaborative albums with artists such as Meg Baird (Espers) and Mac McCaughan (Superchunk / Merge Records co-founder) and shared a friends-based remix album featuring artists such as Jónsi (Sigur Ros) and Julianna Barwick (whose current album she also features on). 'Silver Ladders' is perfectly produced by Slowdive's Neil Halstead, whose touches as a producer and collaborator leave a profound trace.

Los Angeles-based harpist Mary Lattimore returns with Silver Ladders, the full-length follow-up to acclaimed album Hundreds of Days. Since 2018, Lattimore has toured internationally, released collaborative albums with artists such as Meg Baird and Mac McCaughan, and shared a friends-based remix album featuring artists such as Jónsi and Julianna Barwick. At one of her festival appearances, Lattimore met Slowdive's Neil Halstead: "A friend introduced us because she knew how big of a fan I was and Neil and I had a little chat... The next day, I just thought maybe he'd be into producing my next record." He was. Lattimore traditionally records her albums holed up by herself, so the addition of Halstead's touches as a producer and collaborator leave a profound trace. "I flew on a little plane to Newquay in Cornwall where he lives with his lovely partner Ingrid and their baby. I didn't know what his studio was like, he'd never recorded a harp, but somehow it really worked."

Recorded over nine days at Halstead's studio stationed on an old airfield, Silver Ladders finds Lattimore exercising command and restraint. Her signature style is refined, the sprawling layers of harp reigned in and accented by flourishes of low end synth and Halstead's guitar. The music can feel ominous but not by compromising vivid wonder, like oceanic overtones that shift with the tides. This material is colored by specific memories for Lattimore; "Neil has this poster of a surfer in his studio and I'd look at it each day, looking at the sunlight glinting on the dark wave. In these songs I like the contrast between the dark lows and the glittering highs. The gloom and the glimmer, the opposites, a lively surfing town in the winter turned kinda rainy and empty and quiet."

Lattimore and Halstead reformed three existing demos and improvised the remaining four songs. Among the batch she brought with her, the title track recalls a trip she took to Stari Grad, Croatia on the island of Hvar. "I spent some days there just swimming in the bay, silver ladders right into the sea." The image stuck with her when she found herself performing at a cliffside wedding overlooking the Pacific. "Before anyone showed up, I had time to set up and play and this song came to me, 'Silver Ladders (to the sea)', so I made a little recording on my phone to remember it." This sketch expanded; a delicately glittering harp melody comes over the horizon, swelling and rolling towards the shore on ebbs of synth and refractory delay.

These songs are clearly tales, and yet Silver Ladders is open to interpretation. Her memories — "the Cornish landscape, the hotel from the movie The Witches, the cream tea, winning the pub quiz, the Sunday Roast, the ghosts of all of the surfers who had died in the wild waves, the night walks to the top of the hill to see the moon shining on the water…" — shine through these works without defining them. In a way, much like the sea, or the sky, they belong to everyone. Such is the beauty of her craft, which stands here in unprecedented company and clarity, the confidence of an artist in full.
Nat says "When it feels like only Grouper & Julianna Barwick will restore your headspace, try climbing these Silver Ladders instead of always Dragging the Dead Deer to The Magic Place. Heavenly..."