Songhoy Blues
Optimisme
Transgressive Records
---
melding their patented desert blues with hard rock, their third album marks an evolution in sound, whilst retaining all of the defiance and positivity that enamoured us to them from the beginning.
Aliou from the band said: "We wanted to make a rock club crowd get involved with Songhoy Blues. We want to see people jumping on a Songhoy Blues track, like they were at a concert. Matt Sweeney (chavez) said 'Songhoy Blues stage energy is crazy. Why don't you put that energy straight in the song?' That's what we did. This 11-song, multilingual album marks a real musical breakthrough". Fans of tinariwen, ali farka toure and imarhan will love this! "the quartet back up the promise of their last british dates, when they made the leap from exciting to truly thrilling" 4/5 – mojo.
Josh says "Another great LP from one of the liveliest groups in the world. With Songhoy on the stereo it's always party time."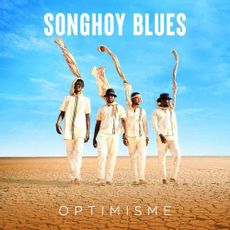 Tracklist
Badala
Assadja
Fey Fey
Gabi
Barre
Pour Toi
Bon Bon
Worry
Korfo
Dournia
Kouma