Yungblud
weird!
Locomotion/Interscope Records
---
Charting a course from inner turmoil to self-acceptance, YUNGBLUD creates a soaring, transcendent anthem in the process.
Doubling down on the raw vulnerability first glimpsed on his powerhouse 2018 debut album, '21st Century Liability', and his 2019 EP, 'hope for the underrated youth', 'Weird!' is YUNGBLUD's most emotionally complex body of work to date. He recorded it at studios in London and Los Angeles with Cervini, Greatti and another frequent collaborator, Matt Schwartz (Cold War Kids, Bullet For My Valentine, Massive Attack). True to YUNGBLUD's fierce refusal to box himself in, Weird! embodies a wildly eclectic collage of sound: Queen-inspired harmonies, Beatles-esque chord progressions, elements of dance-punk and glam-rock and hip-hop and metal. The 23-year-old artist also known as Dominic Harrison explains, "It's a story of coming-of-age and self-acceptance and liberation, in terms of sex and gender and drugs and heartbreak and all the other twists and turns we go through in life." Likening Weird! to a "Skins" episode in album form, he adds, "I hope it makes people feel like it's okay to feel out of place or twisted or weird, because life is weird—but that's what beautiful about it. So don't ever try to live it as someone else. Live it as you."
******
youngblud - weird - night time vinyl, white vinyl, cd and white cassette.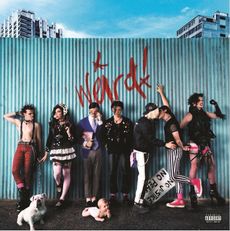 Tracklist
teresa
cotton candy
strawberry lipstick
mars
superdeadfriends
love song
god save me, but don't drown me out
ice cream man
weird!
charity
it's quiet in beverly hills
the freak show