Various Artists : NHS400
NHS400 (rsd 20)
hospital records
---
NHS400 sees the celebration of Hospital Records' 400th release since the opening of its doors back in 1996.
It's no surprise that such a huge milestone is supported by an impeccable selection of tracks with unique collaborations that span across the Hospital family. You'll find brand new collaborations from S.P.Y x London Elektricity with Liane Caroll, Bop x Subwave x Degs, Makoto x Urbandawn with MC Conrad, Whiney x Mitekiss with Ruth Royall, Fred V x Logistics and Keeno x Polaris. With NHS400 marking a seminal milestone in the Hospital Records catalogue, what better way to celebrate the talent that constantly propels the label forward than with a special six-track EP to explore the ever-developing sounds of the label's roster.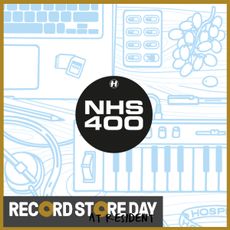 Tracklist
"Find Another Fool (feat. Liane Carroll)"
"The Shade"
"Magic Eyes (feat. MC Conrad)"
"Broken Bones (feat. Ruth Royall)"
"You Keep Me High"
"Leviathan"