The Weather Station
Ignorance
Fat Possum Records
---
Tamara Lindeman's jazz-inflected folk rock has always caused a surge on our appreciation barometer but she's never sent it off the scale like this before.
The Canadian singer-songwriter's joyous swell of blended sounds, moods & influences on 'Ignorance' still harks back to Laurel Canyon, to the snap of Stevie Nicks but now, more than ever, she also embraces the instinctual, spacious compositional approach of Talk Talk's Mark Hollis. Like Weyes Blood alongside her, Tamara crafts something new, charming, captivating & consistently inventive from these familiar touchstones. It's time to forgive ignorance & tune it to what The Weather Station is so eloquently saying.
today's forecast : a warm stevie nicks front giving way to a strong weyes blood breeze from the west with a touch of talk talk drifting in from the south – perfect conditions for a ruddy great album. 'ignorance' is anything but unaware of its influences, yet despite the fact tamara lindeman doesn't hide her love for the very 80's interplay of drama and quiet & hushed moments, this still sounds astoundingly fresh, inventive and catchy. We were hooked after one listen, this is simply an exceptional record that we can't stop spinning. "a well-crafted and heart-felt piece of work that dances seamlessly through the caverns of dark and light, a perfect offering to hold onto with hope." 8/10 - clash

"Shades of Talk Talk and Sensual World-era Kate Bush glimmer through Tamara Lindeman's comeback, which reinvents the Canadian folk-rock outfit as art-pop aesthetes with a sharply surreal line in political commentary" - GUARDIAN. Stereogum on "Robber" - "Look, even if you loved the recent Weather Station albums as much as we did, you are not prepared for "Robber." It marks a whole new sound for Lindeman, one based in tension-building jazz rhythms and disembodied saxophones and slow-then-all-encompassing melodies; she's abandoned any remaining vestiges of folk for an elusive strain of rock music here. "Robber" blew me away the first time I heard it and it is, frankly, an incredible song."

The New York Times on "Robber" - "Moving away from the Joni Mitchell-inspired folk of her previous albums, she embraces a sound more akin to the spacious and vaguely uneasy compositions of Talk Talk, allowing her music to more effectively take up big, billowing questions."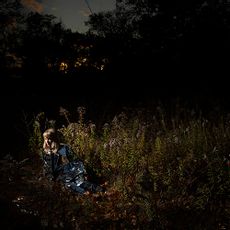 Tracklist
Robber
Atlantic
Tried To Tell You
Parking Lot
Loss
Separated
Wear
Trust
Heart
Subdivisions
dinked edition 82
-evergreen LP*
-Foil numbered*
-hand signed 12x12 print*
-DINKED STICKERED*
DOWNLOAD (300 ONLY)
*exclusive to dinked