KING TUBBY
Dub Mix Up Rare Dubs 1975-1979 (2021 reissue)
jamaican recordings
---
King Tubby the Dub Master, who's output was as prolific as it is sought after, and who's presence is surely missed.
We would like to take you on another dub excursion. This time through some essential cuts made for the Producer / DJ Tappa Zukie. King Tubby always added something a little special to the tracks he worked on. Producers would often bring their already recorded tracks to his home studio at 18 Drummlie Avenue in the Kingston district of Waterhouse. The backing tracks which were laid at various other studios around Kingston. Like Channel 1and Randy's Studio 17, would then be voiced/Re-voiced at King Tubby's. Tubby and his team which included Prince Jammy and Philip Smart would be left to create the version cut. Having listened to the track it would be striped back to the bone of bass and drums and rebuilt. Sprinkling his magic over the track by dropping the bass in and out, adding echo and emphasising various elements of the song. In some cases, dubbing the cut into something unrecognisable from its original sound. The tracks would be aired on Tubby's Hometown Hi-Fi Sound System. Which acted much like a pre-release for the record to gauge the crowd's reaction, before the tracks would be unleased on the public. We think we have sourced another fine collection of Tubby Cuts [see also King Tubby's Lost Treasures JR001], comprising of work with Mr Tappa Zukie. Lost cuts to some of his own tracks like 'First Street Rock', alongside productions he undertook with the great Prince Allah, Junior Ross and the Spears. Also, the much-overlooked vocal group Knowledge. Some great rhythms, some great tracks, worked over by the greatest dub mixer of them all. Hope you enjoy the set as much as we have compiling it... Respect Jah Floyd.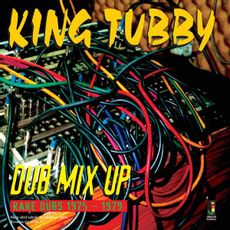 Tracklist
Track 1 POPULATION DUB. A lost till now dub to Tappa Zukie proteges,reggae group Knowledge. Their killer tune 'Population' given the Tubby treatment and featuring Mr Augustus Pablo on keyboards
Track 2 STRANGE DUB. Tubby works over The Paragon's 'Strange Things'.
Track 3 TAKE 5 DUB. The classic Dave Brubeck 'Take 5' rhythm gets a work through. Deadly Headly blows the saxophone….
Track 4 SLAVEMASTER. Prince Allah's 'Slavemaster' shines through on this lost dub cut.
Track 5 WORDS, SOUNDS & DUBWISE. Knowledge's 'Words, Sounds & Power', given some dubwise treatmen
Track 6 JUDGMENT DUB. Tappa reworked The Abbyssinian's 'Declaration of Rights' rhythm into Junior Ross & the Spears classic
Track 7 UPPER 1st STREET DUB. A lost cut of Tappa Zukie's 'First Street Rock' reworked by King Tubby into Upper 1st Street '
Track 8 RUN & HIDE THE DUB. Another Junior Ross & the Spears classic this time their mighty 'You Can't Run' is sprinkled with Tubby's magic.
Track 9 GIVE ME YOUR DUB. Slim Smith's 'Give Me A Love', gets reworked on this dub cut
Track 10 SYNDICATE DUB. The Soul Syndicate band provide the rhythm and stretch out on this lost till now dub cut.
Track 11 SHANK I SHECK. This classic Studio 1 rhythm written about the Chinese Nationalist leader Chiang Ki Chek, gets reworked with the help of Bobby Ellis on saxophone, and Mr Tappa Zukie on the mic…..
Track 12 WICKED DUB. Known as Ronnie Davis's 'No weak Heart', and reworked by Earth & Stone into 'Wicked A Fe Dress Back' featuring The Revolutionaries band this is a wicked lost dub cut.