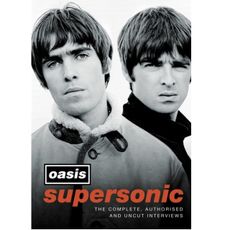 deluxe collector's edition features:

- Exclusive covers to this edition
- Exclusive end papers,
photography by Jill Furmanovsky
- Exposed spine with
orange Thread
- Exclusive pull-out
Knebworth Gatefold
- Shrink-wrapped. Collector's
Edition sticker on outside.
OASIS
Supersonic: The Complete, Authorised & Unabridged Interviews
headline
We are the biggest band in Britain of all time, ever.
The funny thing is, all that fucking mouthing off three years ago about how we were going to be the biggest band in the world - we actually went and did it.' Noel Gallagher Oasis are one of the biggest bands the word has ever seen. Here, in Supersonic, they tell the story of the their beginnings from dive-bar hopefuls to global superstars. They themselves talk us through the pivotal moments in their phenomenal trajectory, from the day Noel Gallagher joined his brother Liam's band, through their first crucial five years culminating at their landmark gigs at Knebworth Park in 1996 - the pinnacle of their success. With over thirty hours of interviews with Liam, Noel and those closest to them, this book documents in unprecedented depth and with their trademark candour and humour, the story behind one of the world's greatest bands, all told in their own words and fully illustrated with exclusive photographs and ephemera throughout.