Pop Psychedelique (The Best of French Psychedelic Pop 1964-2019)
Various Artists
Two-Piers
---
Ever wondered what it would be like to sashay your way through the French New Wave? Straddling 50 years of effortless cool, choreographed finger-snaps & Francophone earworms, listening to this is like sidling into a black & white Parisian Cafe in the wild throes of a Jean Luc Godard scene (no kidding - two of his leading ladies make vocal appearances).
We don't just get nostalgic throwbacks either. Modern classics from the likes of L'Epee, The Liminanas & Stereolab add a contemporary spin to the cigarette & shades posse, slotting in nonchalantly alongside France Gall, Serge Gainsbourg & Jacqueline Taieb. Find out how sophisticated you can possibly be by giving this a spin whilst reading Sartre… In your favourite turtleneck. Nous l'aimons!
French Pop - music so effortlessly cool and hip you can't help but fall in love, Psychedelia - fuzzy dance floor music to lose yourself to. Put the two together and you have an intoxicating mix that is so lush and so perfect, and a sound that has helped soundtrack recent hit TV series such as The Queens Gambit, Killing Eve and The Serpent. 'Pop Psychedelique' (released on Two-Piers) brings together the early pioneers and superstars of the French Pop sound - Serge Gainsbourg, Brigitte Bardot, with the darlings of the 60' scene - Frances Gall, Gillian Hills, Jacqueline Taieb. Add in the more recent French Psych sounds of L'Epee and The Liminanas (both tracks used in Killing Eve), the haunting sound of Fabienne DelSol, the 60s Parisien cool of Anna Karina, the Freak Beat Psychedelic Rock of Les 5 Gentlemen, the dance floor joy of Charlotte Leslie's Franco cover of The Capitols soul classic, the eccentric ear worm of 'Les Cornichons' by Nino Ferrer, and the sheer Moog pop brilliance of 'E.V.A' by Jean Jacques-Perrey. Finish off with Stereolab's take on French pop on 'Cybele's Reverie', Air, one of the most influential electronic bands of 2000s, go synth psych pop on 'Don't Be Light' and Pierre Henry's epic Big-Beat anthem 'Psyche Rock' rounds things off perfectly - Pop Psychedelique - pure joy!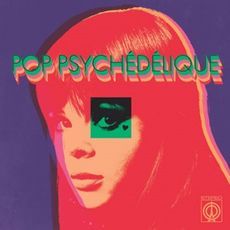 Tracklist
Contact – Brigitte Bardot
Tut Tut Tut Tut - Gillian Hills
Laisse Tomber Les Filles – France Gall
7AM – Jacqueline Taieb
I'm Gonna Haunt You – Fabienne DelSol
Si Tu Reviens Chez Moi – Les 5 Gentlemen
Roller Girl – Comedie Musicale 'Anna' - Anna Karina
Migas 2000 – The Liminanas
Dreams – L'Epee
Les Cornichons – Nino Ferrer
Harley Davidson – Brigitte Bardot
Poupee De Cire Poupee De Son – France Gall
Une Filles C'est fait Pour Faire L'amour - Charlotte Leslie
La Fille a La Moto – Dani
Tu Fais Partie Du Passe – Zouzou
Requiem Pour un c... - BOF 'Le Pacha' - Serge Gainsbourg
E.V.A - Jean-Jacques Perrey
Cybele's Reverie – Stereolab
Don't Be Light - Air
Psyche Rock (Malpaso Mix by Fatboy Slim) - Pierre Henry