hans zimmer
man of steel ost (2021 reissue)
music on vinyl
---
Man of Steel is the soundtrack to the film of the same name, composed by Hans Zimmer.
While popular among fans, the score was polarizing among critics. Popular reception to the score was positive and the album rose to #4 on iTunes during the first week of its release and opened at number 9 on the Billboard 200. Hans Zimmer has crafted an entirely new set of themes for Man of Steel, which is grittier and darker than any of its predecessors. This is a very special edition, containing a 4-page insert and an exclusive fridge magnet. The gatefold sleeve got a silver-spot varnish on the Superman logo on the front cover. Available as a limited edition of 1500 individually numbered copies on translucent blue vinyl!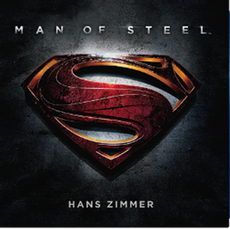 Tracklist
Look To The Stars
Oil Rig
Sent Here For A Reason
DNA
Goodbye My Son
If You Love These People
Krypton's Last
Terraforming
Tornado
You Die Or I Do
Launch
Ignition
I Will Find Him
This Is Clark Kent
I Have So Many Questions
Flight
What Are You Going To Do When You Are Not Saving The World?