RAY CHARLES
True Genius
Tangerine Records
---
In celebration of what would have been Ray Charles' 90th birthday, Tangerine Records, the label he founded in 1962, is proud to announce the September 10, 2021 release of "True Genius" the ultimate Ray Charles collection.
Featuring 90 of his greatest songs and most important recordings of his legendary career, this newly remastered six CD box set includes all of his biggest hits, along with a special bonus disc of eight previously unreleased tracks, recorded live in Stockholm in 1972. This incredible bonus disc is only available with the purchase of the physical box set. Ray Charles's recordings are major landmarks in American culture. By combining Gospel with Rhythm & Blues, Charles pioneered soul music and his groundbreaking move into Country music during the heart of the Civil Rights Movement, broke racial barriers while elevating Country music to world-wide popularity for the very first time. Ray Charles uniquely succeeded in recording and blending virtually every genre of music including soul, R&B, jazz, blue country, rock and pop in unique and unprecedented ways; which is why Frank Sinatra dubbed him the only "True Genius" in music. This visionary singer, songwriter, pianist and composer brought his expansive musical vision to a worldwide audience and forever changed the face of American Music. Charles' staggering achievements over a 58-year career include 17 GRAMMY Awards, induction into the Rock and Roll Hall of Fame, a Lifetime Achievement and the President's Merit Award, the Presidential Medal for the Arts, France's Legion of Honor, the Kennedy Center Honors, the NAACP Image Awards' "Hall of Fame Award," and numerous other music Halls of Fame, including those for Jazz and Rhythm & Blues, all testament to his enormous influence. In 2019, he was honored by the Grand Ole Opry with An Opry Salute to Ray Charles, which was broadcast across PBS stations.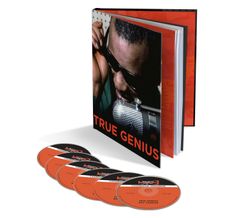 Tracklist
CD 1:
1. Georgia On My Mind
2. Them That Got
3. Ruby
4. Hardhearted Hannah
5. One Mint Julep
6. I've Got News For You
7. I'm Gonna Move To The Outskirts Of Town
8. Hit The Road Jack
9. Unchain My Heart
10. Baby, It's Cold Outside
11. Hide Nor Hair
12. I Can't Stop Loving You
13. You Don''t Know Me
14. You Are My Sunshine
15. Take These Chains From My Heart
16. No One
17. Busted
18. That Lucky Old Sun
19. Baby Don't You Cry
20. Smack Dab In The Middle
21. My Heart Cries For You
22. Cry
CD 2:
1. Makin' Whoopie
2. Hallelujah I Love Her So
3. I've Got A Woman
4. What'd I Say
5. I'm A Fool To Care
6. The Cincinnati Kid
7. Crying Time
8. Together Again
9. Let's Go Get Stoned
10. Please Say You're Fooling
11. I Don't Need No Doctor
12. Here We Go Again
13. Somebody Ought To Write A Book About It
14. In The Heat Of The Night
15. Yesterday
16. Sweet Young Thing Like You
17. Eleanor Rigby
18. If It Wasn't For Bad Luck
19. I Didn't Know What Time It Was
20. Let Me Love You
21. I'm Satisfied
CD 3:
1. We Can Make It
2. Laughin' And Clownin'
3. If You Were Mine
4. Booty Butt
5. Feel So Bad
6. Your Love Is So Doggone Good
7. Something
8. America The Beautiful
9. Look What They've Done To My Song, Ma
10. There'll Be No Peace Without All Men As One
11. Every Saturday Night
12. Our Suite
13. I Can Make It Thru The Days (But Oh Those Lonely Nights)
14. Ring Of Fire
15. Come Live With Me
16. Somebody
17. Till There Was You
CD 4:
1. Living For The City
2. It Ain't Easy Being Green
3. All Of The Time
4. Summertime
5. Take Me Home Country Roads
6. Am I Blue?
7. I Can See Clearly Now
8. How Long Has This Been Going On?
9. Let It Be
10. Is There Anyone Out There
11. Drift Away
12. Blues In The Night
13. Compared To What
14. Time
CD 5:
1. Do I Ever Cross Your Mind
2. Two Old Cats Like Us (w/ Hank Williams Jr.)
3. Seven Spanish Angels (w/ Willie Nelson)
4. Anybody With The Blues
5. Baby Grand (w/ Billy Joel)
6. Stranger in My Own Home (w/ Kenny Carr)
7. Save The Bones For Henry Jones (w/ Lou Rawls And Milt Jackson)
8. Ellie My Love
9. I'll Be Good To You (w/Chaka Khan)
10. A Song For You
11. Still Crazy After All These Years
12. If I Could
13. None of Us Are Free (w/ Eric Clapton)
14. Imagine
15. Here We Go Again (w/ Norah Jones)
16. The Long And Winding Road
CD 6:
1. Alexander's Ragtime Band
2. What'd I Say
3. I've Had My Fun
4. Raelettes Introduction
5. Games People Play
6. Don't Change On Me
7. I Can't Stop Loving You
8. Marie
9. I've Got A Woman