The Killers
pressure machine
UNIVERSAL
---
This one took us a little by surprise as it's been a while since we were bowled over by them.
The first time we put it on "just to see" (as we do with pretty much everything). Then we put it on again just to check. Then we kept putting it on, so now we're sure. The new Killers is killer!! Taking a leaf out of The Boss's hard-hitting 'Nebraska', The Killers latest is a picture painted in scrupulous detail of a rural blue-collar town & the heroism of the individual inhabitants. Through barn-storming sing-a-longs, softly sung folk ballads & a liberal sprinkling of Brandon Flowers' lyrical charm, that picture becomes an all-American rock stomp. It's a masterful work. One that will ring true for listeners in small towns & big cities, the world over.
These optimistic chaps have turned their burning attentions towards the plight of small town America on this grandiose concept record. The Killers return with their seventh studio album Pressure Machine. The album is about the small town of Nephi, Utah where Brandon Flowers spent his youth. The songs are extremely personal and cover a spectrum of emotions in connection to growing up in a rural setting. The album will also include a collaboration with Phoebe Bridgers on one track. The Grammy-nominated band has won 3 Brit awards and an MTV Video Music Award and their classic song "Mr. Brightside" has logged over 5 years on the UK Official Singles Chart.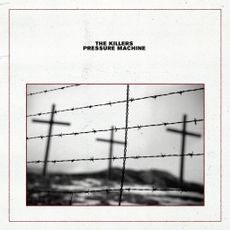 Tracklist
| | |
| --- | --- |
| 1 | West Hills |
| 2 | Quiet Town |
| 3 | Cody |
| 4 | Terrible Thing |
| 5 | Sleepwalker |
| 6 | Runaway Horses featuring Phoebe Bridgers ** |
| 7 | In The Car Outside |
| 8 | In Another Life |
| 9 | Desperate Things |
| 10 | Pressure Machine |
| 11 | The Getting By |

limited retail exclusive grey slipcase