THE AINTS!
LIVE AT MARRICKVILLE BOWL
FATAL RECORDS
---
On April 27th, 2018 two days before the recording of their debut LP The Church of Simultaneous Existence, Ed Kuepper & The Aints! played the unrecorded album in its entirety to a full house at Sydney's Marrickville Bowls Club a/k/a The Bowlo.
Recorded for prosperity by super-Kuepper fans Moshcam the outstanding results are now available - albeit in limited vinyl quantities - for everyone else to hear. The Aints! had formed initially to celebrate the 40th anniversary of (I'm) Stranded, Kuepper's first release and the debut album by The Saints, the band he had co-founded in 1973 and who courted international acclaim and infamy for their trio of classic and influential albums including (I'm) Stranded plus Eternally Yours and Prehistoric Sounds before the usual "musical differences' reared it's ugly head forcing the band to split late in 1978. Recruiting like-minded players in Peter Oxley (Sunnyboys), Paul Larsen Loughhead (The Celibate Rifles) plus jazzers Alister Spence and Eamon Dilworth, The Aints! pulled together a set comprising material from all three incendiary albums. However, as rehearsals developed, Kuepper - ever the restless songsmith - began to unearth even more material from that time - unrecorded material - derived from old cassettes or even just memory and dating back as far as 1969 whilst the young Ed was still in short shorts. Bit by bit, one by one these tracks developed until the realisation that there was a whole album's worth of songs ready to record. But first, a final run through… ".. the key to the success of this album – and to these ears it is one of the finest records of the year – is not that it echoes past glories or hints at what might have been had the early version of The Saints recorded a fourth album but that it is a powerful musical statement, timeless, with its own sound and vision. Sure, it's rock'n'roll, but who else sounds like The Aints!?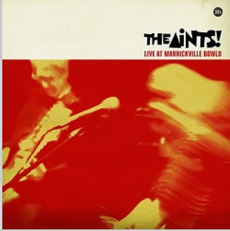 Tracklist
Red Aces
The Church Of Simultaneous Existence
SOS ?75
Demo Girl
Elevator (A Song for Barking Lord Jeff)
Country Song in G
This Is Our Summer
You?ve Got the Answer
You?ll Always Walk Alone
Winters Way
Goodnight Ladies (I Hear A Sound Without)
The Rise & Fall of James Hoopnoch Eifel