The Beatles
In The Studio And In Concert 1962-1966
coda
---
This is the powerful anthology of the Beatles during the halcyon years from 1962 to 1966 when they were still working as a cohesive unit; touring, recording and broadcasting live on air.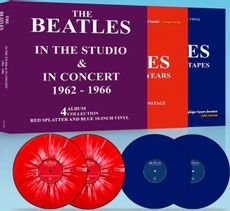 Tracklist
BLUE
1.Love Me Do
2. I Saw Her Standing There
3. Can't Buy Me Love
4. From Me To You
5. She Loves You
6. All My Loving
7. Please Please Me
Side B
1.TwistAnd Shout
2.Things We Said Today
3.You Can't Do That
4.This Boy
5. Long Tall Sally
Side C
1.A Hard Day's Night
2. I Feel Fine
3.Ticket To Ride
4.Yesterday
5. Help!
Side D
1.She's A Woman
2.Day Tripper
3. Nowhere Man
4. Paperback Writer
5. I'm Down
RED
Side A
1. Money (That's What I Want)
2. Till There Was You
3. To Know Her Is To Love Her
4.Take Good Care Of My Baby
5. Memphis Tennessee
6. Sure To Fall (In Love With You)
Side B
1. Crying Waiting Hoping
2. Love Of The Loved
3. September In The Rain
4. Besame Mucho
5. Till There Was You
6. My Bonnie
Side C
1. Love Me Do
2. P.S. I Love You
3. There's A Place (Take 2)
4. I Saw Her Standing There (Takes 6 & 10)
5. Misery (Take 6)
6.ThankYou GirlTakes (4 & 12)
Side D
1. Don't Bother Me (Take 10)
2. Hold Me Tight (Take 28)
3. A Hard Day's Night (Take 7)
4. I'm A Loser (Take 8)
5. What You're Doing (Take 2)