The Notorious B.I.G.
Ready To Die (2021 reissue)
Bad Boy
---
This reissue featuring the iconic artwork of an infant bearing a resemblance to the rapper has been out of the marketplace for over a decade and also features all 19 tracks from the Ready to Die Sessions.
The album cover is often cited as one of the greatest of all time, with Billboard magazine placing it no.4 on its list of "The 50 Greatest Album Covers of All Time" stating that juxtaposition of the music with the "innocence of a child" on the cover illustrates how "a cruel world imprints on unmoulded minds". NME has also placed it no.12 on its list of "Timeless Hip Hop Album Covers" and Complex Magazine have placed it at no.16 on its list of "Greatest Album Covers".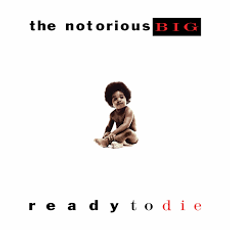 Tracklist
Intro
Things Done Changed
Gimme The Loot
Machine Gun Funk
Warning
Ready To Die
One More Chance
Fuck Me (Interlude)
The What
Juicy
Everyday Struggle
Me & My B*tch
Big Poppa
Respect
Friend Of Mine
Unbelievable
Suicidal Thoughts
Who Shot Ya
Just Playing (Dreams)