Richard Dawson & Circle
Henki
Weird World
---
When two goliaths of the experimental guitar-driven scene came together on the eve of the Covid-era, expectations were thermosphere-high.
Fortunately, as ever, Dickie Dawson has not let us down. This is fist in the air stuff, zipping along like a locomotive fuelled by Satan's wrath & with controls set for the sun. Part 'Peasant' & part 'Sunrise', 'Henki' is not so much in the business of mythmaking as it is myth-smashing. Clubbing fantasy, folklore & fauna into a seismic melting pot befitting of this titanic clash before gargling the contents & then spraying them into our adoring faces. The PR notes dared to declare this as "Easily the greatest flora-themed hypno-folk-metal record you'll hear this year." We dare not argue.
Like a vast musical mushroom spread out beneath the fertile soil of progressive rock, this extensive experimental collaboration from two fascinating acts somehow exceeds our furthest estimations for its far-reaching (and damn-well rocking) scope. Henki fits comfortably into the bigger picture of two acts who have always strived for uninhibited originality. Dawson explains the album's title: "The word 'henki' roughly translates as 'spirit'. It's a very rich word, supple in its meaning in the same way as the Geordie 'canny'; difficult to pin down." True to its name, while Henki is influenced, in part by heavy-metal bands, it does not sound like any metal album you will have heard before. For one thing, few metal albums are filled with songs about plants. Inspired by Circle's guitarist Janne Westerlund instructing the group during recording to be less straightforward and more "like a plant", each of Henki's seven tracks deal with special plants throughout history. The first track to be shared from Henki is "Lily" and is less directly botanic and more about the ghostly visions experienced by Dawson's mother when she worked as a nurse in Newcastle's Royal Victoria Infirmary. As mutual fans of each other, Circle and Dawson originally hit off it via Twitter, which led to Dawson being invited to accompany Circle for their set at Helsinki's Sideways Festival in 2019. Dawson recalls the moment: "It was like being a teenager and suddenly being asked to go onstage with Iron Maiden. That's how important this band are to me". Having pulled that off, they started exchanging demos before they finally got in a room together to set off on their journey proper. Most of the recording took place in Pori - a fine jewel of a city on Finland's balmy west coast - across several visits, the last being in late January 2020 just as Covid-19 first reached Europe. From there they had to finish Henki remotely - via waves of pure thought beamed across the dark dividing oceans betwixt them, and email. Easily the greatest flora-themed hypno-folk-metal record you'll hear this year, Henki adds an electrifying new chapter to the remarkable story of each act, and marks the beginning of a beautiful partnership. Circle, described as "the world's greatest band - in every category" are Pekka Jääskeläinen (guitar), Julius Jääskeläinen (guitar), Jussi Lehtisalo (bass, voice), Mika Rättö (keyboard, voice), Tomi Leppänen (drums) and Janne Westerlund (guitar, voice). Richard Dawson plays guitar and vocals. Henki was mixed by Antti Uusimäki and mastered by Christian Wright.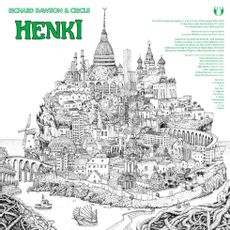 Tracklist
Cooksonia
Ivy
Silphium
Silene
Methuselah
Lily
Pitcher