THE BLACK KEYS
El Camino (10th Anniversary Edition)
NONESUCH
---
the duo have really gone to town with the 10th anniversary celebration of their landmark 7th album.
El Camino was produced by Danger Mouse and The Black Keys and was recorded in the band's then-new hometown of Nashville during the spring of 2011. The Black Keys won three awards at the 55th annual GRAMMY Awards for El Camino – Best Rock Performance, Best Rock Song, and Best Rock Album – among other worldwide accolades. In the UK, the band was nominated for a BRIT Award (Best International Group) and an NME Award (Best International Band). The week of release, the band performed on Saturday Night Live, The Colbert Report, and the Late Show with David Letterman, and later that year, went on to perform their first Madison Square Garden show. Rolling Stone, which featured the band on their cover around the release, hailed El Camino for bringing 'raw, riffed-out power back to pop's lexicon,' and called it 'the Keys' grandest pop gesture yet, augmenting dark-hearted fuzz blasts with sleekly sexy choruses and Seventies-glam flair.' The Guardian said, 'They sound like a band who think they've made the year's best rock'n'roll album, probably because that's exactly what they've done.' In the newly written liner notes for El Camino (10th Anniversary Deluxe Edition), David Fricke says: The story of the Black Keys' seventh album, named after an automobile, long out of fashion and featured nowhere in the artwork, begins on a sidewalk in the middle of a blizzard. On the afternoon of January 9, 2011, singer-guitarist Dan Auerbach and drummer Patrick Carney stood on the pavement outside the Bowery Hotel in New York City, saw the weather turning vicious, looked at each other and came to the same decision: They had to get off the road. The night before, the duo scored another first in a season getting crowded with them: The Black Keys' debut appearance on Saturday Night Live, performing 'Howlin' for You' and 'Tighten Up', the breakout singles from their latest release, Brothers. Two days earlier, Brothers – the Keys' first Top 5 album, released in May 2010 – became their first Gold record, passing a half-million in sales thanks to heavy FM rotation and a near-year of gigging, now set to run deep into 2011 including a prestige slot at Coachella and victory laps in Europe and Australia. The Keys "tried to settle down" after cancelling the tour, Carney says. But that didn't last. "I said, 'We should just make another record.' And I asked Dan if we should get Danger Mouse" – the hip-hop and modern-rock producer, real name Brian Burton, who worked on the Keys' 2008 record, Attack & Release, and co-produced 'Tighten Up'. Auerbach and Carney did not have any new songs, but as the drummer notes, "Most of our records – we don't have material when we start. Brothers was made up in the studio."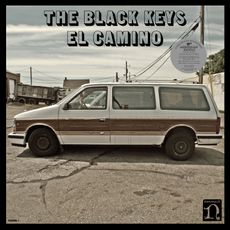 Disc 1: El Camino (2021 Remaster)
Side A
Lonely Boy
Dead and Gone
Gold on the Ceiling
Little Black Submarines
Money Maker
Side B
Run Right Back
Sister
Hell of a Season
Stop Stop
Nova Baby
Mind Eraser
disc 2: Live in Portland, ME.
(Part 1)
Side C
Howlin' for You
Next Girl
Run Right Back
Same Old Thing
Dead and Gone
Side D
Gold on the Ceiling
Thickfreakness
Girl Is on My Mind
I'll Be Your Man / Your Touch
Little Black Submarines
DISC 3: Live in Portland, ME.
(Part 2)
Side E
Money Maker
Strange Times
Chop and Change
Nova Baby
Ten Cent Pistol
Side F
Tighten Up
Lonely Boy
Everlasting Light
She's Long Gone
I Got Mine
DISC 4: BBC Session
Side A
Howlin' for You *
Next Girl *
Gold on the Ceiling *
Thickfreakness *
I'll Be Your Man *
Your Touch *
Side B
Little Black Submarines *
Dead and Gone *
Tighten Up *
Lonely Boy *
I Got Mine *
DISC 5: Electro-Vox Session
Side A
Dead and Gone *
Gold on the Ceiling *
Howlin' for You *
Lonely Boy *
Side B
Money Maker *
Next Girl *
Run Right Back *
Sister *
Tighten Up *
* Super Deluxe Editions only