FRANK ZAPPA
Live at Fillmore East, June 1971 (50th Anniversary)
UMC/ Polydor
---
The iconic 1971 release gets expanded for its 50th Anniversary.
Featuring the original single LP newly remastered with two additional vinyl discs of period-perfect vintage mixes from the Vault. Includes the John Lennon and Yoko Ono encore and the original "Billy The Mountain!" Liner Notes by Vaultmeister Joe Travers.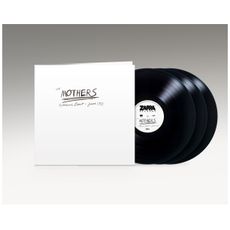 LP1 - Side A
1. Little House I Used To Live In
2. The Mud Shark
3. What Kind Of Girl Do You Think We Are?
4. Bwana Dik
5. Latex Solar Beef
6. Willie The Pimp - Part One
LP1 - Side B
1. Willie The Pimp - Part Two
2. Do You Like My New Car?
3. Happy Together
4. Lonesome Electric Turkey
5. Peaches En Regalia
6. Tears Began To Fall
LP2 - Side C
1. Well – featuring John Lennon and Yoko Ono
2. Say Please – featuring John Lennon and Yoko Ono
3. Aaawk – featuring John Lennon and Yoko Ono
4. Scumbag – featuring John Lennon and Yoko Ono
5. A Small Eternity With Yoko Ono – featuring John Lennon and Yoko Ono
LP 2 - Side D
1. King Kong - Solos
LP 3 - Side E
1. Billy The Mountain: Phase One of "The Plot", Phase Two & Newscast, The Legendary Low Budget Hero, The Files
LP 3 - Side F
1. Billy The Mountain (cont'd): Studebacher Hoch, The Conclusion
2. Homemade Radio Spot
3. Tears Began To Fall
4. Junier Mintz Boogie