Czarface
Czarmageddon (rsd 22)
Silver Age
---
Hot off their two smashes for Marvel's blockbuster film Venom: Let There Be Carnage, CZARFACE is back, triumphantly swinging into your universe with their new LP CZARMAGEDDON! Expect many twists and turns as Wu-Tang's Inspectah Deck and Esoteric go to war with an all-new, all-different soundscape from Czarface producers the Czar Keys.
Alt-rap icon Kool Keith shatters the lyrical glass and the enigmatic Frankie Pulitzer, who first appeared on the Venom soundtrack on Czarface's Today's Special, is back with guns blazing. Collectors will crash the gates for this all new chapter of the Czarface saga. Includes exclusive trading cards illustrated by Czarface chief artist Lamour Supreme!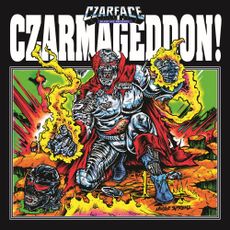 Tracklist
Damien's Dinner Time
The Czarlaac Pit (feat. Frankie Pulitzer)
Can It Be?
Walk Thru Walls
Splash Page
Bob LaCzar
Big em Up (feat. Lion Eye)
Nu Mutantes
Fearless & Inventive (feat. Kool Keith)
Boogie DefMix
Czarv Wolfman
Logan-5.