Sam Slater
I Do Not Wish To Be Known As A Vandal
bedroom community
---
Delicate & haunting electronic atmospherics bump up against rasping strings in a spectral yet muscular affair from the British born & Berlin based Sam Slater.


Whilst that might initially seem like a contradiction, spiralling throughout the heart of these painstakingly crafted soundscapes is an existential battle between gossamer frailty & thick, just-got-my-pump-on, drones that damn well sets our hearts alight.

It could be the intimate connection between Slater & regular collaborator Hildur Gudnadottir that drives this enthralling dichotomy (the pair have previously combined to carve out earth-juddering soundtracks for visual hits like Joker, Chernobyl, and Battlefield 2042). Or it could be the addition of Hilary Jeffrey's desert trombone. Or the experimental clarinet of Sam Dunscombe, JFDR's sublime voice, or even the roar of Yair Glotman's double bass.
Whatever the cause of this exceptional sonic alchemy, it's a juxtaposition of varied & versatile approaches that results in a record which scythes through us with each bowed string, every burrowing bass burr, and each gasped vocal.

What's more, you won't find this on vinyl outside of the Dinked group of shops. This is an exclusive & incredibly special release that will inevitably score the rest of 2022.
FOR FANS OF: Hildur Gudnadottir / Resina / Ben Frost / Roly Porter / Kali Malone / Maria W. Horn

Influenced by the 70s concept prog records of his childhood, the album loops without ending, so you were never really allowed to rest in safety, or wallow in the mess for too long. "The record was made just before the pandemic started, working closely with the distinct feed-backing Dorophone sounds of Hildur Guðnadóttir, Yair Glotman's thunderous double-bass, James Ginzburg's devotion to precise form and muting my reverb stems, the microtonal brass and woodwinds of Hilary Jeffrey and Sam Dunscombe and the infinite intimacy of Icelandic singer-songwriter JFDR. From Berlin, I would flag sounds I loved; some twitching strings, the stolen alto voice from an abandoned English chorale, some words from a climate scientist fleshed into a poem. These email attachments struck up a sort of sonic pen-pal program, with each person sending a sound, some words, some creative parameters and responding in turn. It became an exercise in receptivity, in which openness itself became a creative voice, hushing my tendency to micromanage every detail. These interactions were pulled together in late 2019 into a single piece written for two sides of a single 12" vinyl; one side describing collapse (Darn!) and the other, recovery (Kintsugi)". "I kept on visualizing a body, suspended just at the point where gravity took over, and the figure was falling from their feet to the floor. Frozen at this midpoint, there wasn't much to say which way they were going - suspended between collapse and recovery, they could almost be getting back to their feet. Perhaps I was punch drunk from 2019, however I noticed very soon the zero-gravity feeling of being suspended between these two points was all around me; the impression of a caring democracy hamstrung by 2D visions of old empires; the climate in it's seemingly terminal demise and the ever emboldened ideas for a functioning future looming from the smog; the suspension between the immortality of my 20s and the strange feeling when everyone starts to get sick more; the feeling that everything is suspended between collapse and recovery, and I am unsure which way it's heading. Although my 20-year-old self would loathe it, I find myself tired of people believing their own creative voices are the most interesting or that creativity needs another self-aggrandizing voice. I thought of this as a project about restoring balance, the immense power to be found in collaboration, receptivity and the belief that if I am going to contribute to the world in 2022, it should be from a position of openness. It should be kind rather than vulgar. It should be constructive, not destructive. I do not wish to be known as a Vandal."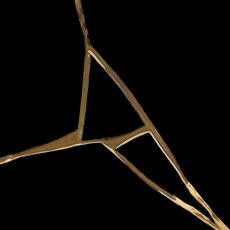 Tracklist
darn!
Kintsugi
Dinked edition 185

- "Galaxy Splatter" Colour Vinyl *
- Hot Foil Printed Outer Sleeve *
- Spot Varnish Text Detail *
- Full Colour Inner
- Hand-Signed Postcard *
- Limited To 500 Copies *

* Exclusive to dinked edition