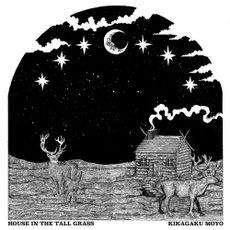 Green Sugar
Kogarashi
Old Snow
White Sun
Melted Crystal
Dune
Silver Owl
Fata Morgana
Trad
Cardigan Song
KIKAGAKU MOYO
House In The Tall Grass (2023 repress)
GURUGURU BRAIN
Their music incorporates elements of classical Indian music, Krautrock, Traditional Folk, and 70s Rock.
Most importantly their music is about freedom of the mind and body and building a bridge between the supernatural and the present. Improvisation is a key element to their sound. Like a long journey, this record unfolds itself through many layers. Fans of Kikagaku Moyo will be comforted by the soft vocal harmonies and warm Sitar but what sets this release apart is the refinement of the band's songwriting and their delicate execution. Side A begins with a pair of traveling songs where the interplay between the vocals, guitar, and sitar lift and suspend you on an unexpected journey.

The patient listener is rewarded by tracks like "Trad" and "Silver Owl" that demonstrate the masterful balance the band has between soft and loud; chaos and order, or being both cold and tender at the same time. "House in the Tall Grass" takes the listener by the hand on a comfortable quest through destinations both familiar and unknown. It is a natural step forward for the band and perhaps the most refined example of their style to date. Kikagaku Moyo started in the summer of 2012 busking on the streets of Tokyo. Though the band started as a free music collective, it quickly evolved into a tight group of multi-instrumentalists. Kikagaku Moyo calls their sound psychedelic because it encompasses a broad spectrum of influence.