other titles...
See also...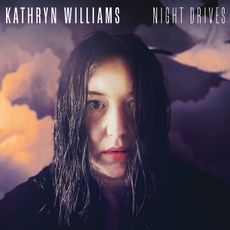 Human
Answer In The dark
Chime Like A bell
Radioactive
The Me For You
Moon Karaoke
Night Drive To The Lake
Put the needle on the record
Magnets
The Brightest
Starry Heavens
I Am Rich In All That I've Lost
KATHRYN WILLIAMS
Night Drives
One Little Independent / virgin
Journeying from leftfield contemporary pop to soft acoustics, Kathryn Williams explores a more filmic sound enriched with a larger ensemble of instrumentation, including strings and production from Ed Harcourt.


Singer, songwriter, novelist, painter - Kathryn Williams is a busy lady so it's no wonder she's not managed to release an album since 2015 (although she has released 12 full-lengths prior to this!). Her inimitable charm colours 'Night Drives' with emotion and affection and the host of collaborators (including Emily Barker, Kirsty Logan, Matt Deighton and Neill Maccoll) add layers of texture & interest to these beautifully arranged, natural compositions.

The collection explores a more filmic sound, with a larger ensemble of instrumentation, particular emphasis on the strings and production from Ed Harcourt. Journeying from leftfield contemporary pop to soft acoustics, Kathryn Williams uses her latest LP to explore a variety of fresh ideas driven, in part, by a host of collaborators. Kirsty Logan, Oystein Greni, Romeo Stodart, Matt Deighton, Simon Edwards, Yvette Williams, Neill Maccoll, Andy Bruce, Ida Wenoe, Joel Sarakula, Emily Barker and John Alder all have credits on various tracks across 'Night Drives'. Kathryn explains "I've been releasing music for 24 years now. That fact blows me away, and things have changed so much over those years. The biggest change has been my love of co-writing and writing for other artists. This began when I first went on a writing retreat with Chris Difford forming close friendships and working relationships that are represented here". Her first official album since 'Hypoxia' in 2015, 'Night Drives' opens with some of Kathryn's most immediately electronic tracks to date, the nihilistic 'Human', big ballad 'Answer In The Dark' with all it's bold, layered production, and the dynamic, infectious 'Radioactive'. Elsewhere on the likes of 'Moon Karaoke', 'Magnets' and 'The Brightest', a more cinematic sound is explored; slowly unravelling stories backed by delicate acoustics and elated, emotive string pieces. 'Put The Needle On The Record' and joint closers 'Starry Heavens' and 'I Am Rich In All That I've Lost' are relaxed and fall into the more traditional world of folk inspired melancholia. Kathryn's inimitable charm colours the whole album with emotion and affection – occasionally brooding, always likable. Discussing some of the themes explored she says "Some of it is questioning who we are, realising that being human is about flaws, humility, and the consequences of how we react to others. It can be about the longevity of a long-term relationship, how to keep the fire burning and to celebrate that. So many love songs are about the first moments, but this is about enduring love. The simple things that fill a day and how our dreams and wants are so separate to the daily grind. The final track is a philosophical musing on loss and gain in life. How by living a long life we will lose so much, but that in itself is riches". The classic references that Kathryn draws from, particularly that of fellow Liverpudlians The Beatles, are clear in 'Night Drives', which plays like a road-trip through her styles and influences. It recalls visions of a British countryside lightly illuminated by the flicker of passing lampposts and the endless, rolling landscapes beyond them. These are intelligent, self-aware tracks, with Kathryn's unmistakable writing backed with beautifully arranged, natural compositions. "I am really proud of this record. Also really scared of putting it out into the world after such a long time" she continues, "I can say that because it's not just down to me. It's because of the musical family I have around me that keeps me safe, makes me better, is there for the times when I think I can't go on. It's about realising that by sharing things creatively, they can be better and it's not about showing people how great you are. It's about making the songs the best they can be and trusting people with that. I've been on OLI records since 2010. In that time, they have put out 8 albums as well as the anthology box set. Their belief in me and ongoing support has been nothing short of a miracle. They've happily allowed me to do side projects, collaborations, write novels, teach. They've encouraged me to make my art and include it on releases. Having the label, Ed Harcourt and the other artists who I work with believe in me has helped me believe in myself and want to be what they think I am." Kathryn Williams is often described as "a songwriter's songwriter", her timeless and searching work has earned her accolades, critical acclaim, and a loyal fan-base. In this new musical world when we talk about an artist's body of work, we tend to think of a handful of records stretched out across of a handful of years, if we're lucky. A changing industry and a focus on immediacy has done little to alter such notions, which makes Kathryn Williams something of an anomaly – releasing 12 full-length albums under her own name since her debut LP, 'Dog Leap Stairs', released in 1999. As impressive a stat as that might be, it does little to capture the true magic of Williams work; the enchanting craft that has grown and expanded as she's moved from one project to the next, from the breakthrough success of her Mercury Prize nominated 'Little Black Numbers' all the way to her Sylvia Plath tribute project 'Hypoxia' and last year's Christmas album 'Midnight Chorus', written with Dame Carol Ann Duffy. While her best-known work is characterised by rich and honest songwriting inspired by the greats, Williams has continually been able to evolve as an artist because she's always looked outside of such boundaries. She continues to listen and learn while, at the same time, writing with a fiery spirit and a sense of adventure that has never once wilted.