other titles...
See also...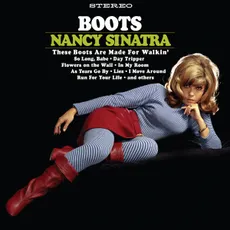 as tears go by
day tripper
i move around
it ain't me babe
these boots are made for walkin'
in my room
lies
so long, babe
flowers on the wall
if he'd love me
run for your life
the city never sleeps at night (bonus track)
for some (bonus track)
Nancy Sinatra
Boots (2022 reissue)
light in the attic
"Dumb stuff, as Lee used to call it; Dumb doesn't mean stupid, It means human and understandable".
It was the sound of three guitars, drums, and bass. It was simple, very, very simple. I can still see the room, the studio. With Carol Kaye, Glen Campbell, Donnie Owens… I can still see them all sitting there and chunking away. I guess simple was the best way to explain it, uncomplicated." – Nancy Sinatra Light in the Attic is proud to present the next installment of the Nancy Sinatra Archival Series with a deluxe reissue of Nancy's first album, Boots. The 1966 debut million-selling debut LP, introduced the sassy, blonde, go-go booted icon. Built around her Lee Hazlewood-penned hits, "These Boots Are Made for Walkin'" and "So Long, Babe," the folk-rock era milestone album features songs by The Beatles, The Rolling Stones, Bob Dylan, Hazlewood and more. The catchy and jangly pop hooks performed by the famed Los Angeles session musicians, The Wrecking Crew and Billy Strange's innovative arrangements provided the perfect sound to help Nancy capture the attention of the world. The new reissue includes two bonus tracks recorded during the album sessions, the non-album b-side "The City Never Sleeps At Night" and the previously unreleased "For Some." Remastered from the original analog tapes by GRAMMY®-nominated engineer John Baldwin, the reissue is complemented by a new Q&A interview with Nancy and GRAMMY®-nominated reissue co-producer Hunter Lea.