Lissie
carving canyons
lionboy / cooking vinyl
---
Lissie instore & signing.
Tuesday 27th September 2022, 6.00pm
(all ages - under 14s can come for free)
preorder any format above with "instore entry" for guaranteed priority entry for you & a guest.
Lissie's 'Carving Canyons' finds the acclaimed singer-songwriter digging deep to carry on through life's many uncertainties. The singer-songwriter's fifth album is her most personal expression yet, with twelve songs that chart the ripples caused by heartbreak and loneliness as well as what happens when the soul perseveres amidst pain. Carving Canyons is as deeply felt as Lissie's music has ever been, with sumptuous production and indelible melodies that will surely stand the test of time.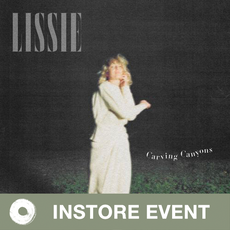 Tracklist
Unravel
Sad
Chasing the Sun
Lonesome Wine
Night Moves
Flowers
Carving Canyons
I Hate This
Unlock the Chains
Hearts on Fire 1
Yellow Roses
Midnight