Hurrah!
Hurrah! – David Jensen 08.12.82 (first time on vinyl!)
precious recordings of london
---
On vinyl for the first time, this is the only BBC session ever recorded by legendary 1980s indie pioneers Hurrah!, featuring an early version of their fabled second single 'Hip Hip' alongside three more bursts of immaculate guitar pop.
Gatefold seven-inch double vinyl comes with a set of five postcards – first 350 copies signed by Paul Handyside and Taffy Hughes, who have also provided sleeve notes. Postcards also feature excerpts from the Kitchenware fanzine and a Bleddyn Butcher photo; Bleddyn also did the cover. And download codes, of course.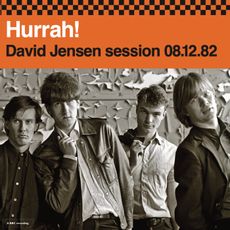 Tracklist
Hip Hip
Saturday's Train
This Boy
Lonely Room