A.O. Gerber
Meet Me at the Gloaming
Hand In Hive Records
---
Cinematic & ethereal in equal measure, Gerber's approach to her songwriting creates an organic pool of sounds for her voice to weave through & leap out of with dazzling effect.
We've been hooked since we first laid ears to the promo; Gerber takes a maximalist approach with layers of acoustic & electronic instruments & textures to create an introspective world for her lyrics to colour. It's a fascinating way to create, & unafraid to use a sonic palette as ambitious as her lyrics.
There are more albums that tackle grief than there are hours in a lifetime, but very few that we've heard feel as open, as honest & as perfectly weighted between lyric & sound as 'Meet Me At The Gloaming'. This is a deeply special record that's worthy of the time it takes to sit down & explore, line for line.
FFO: Julie Byrne / Malena Zavala / Cocteau Twins / Insides / Cassandra Jenkins / The War On Drugs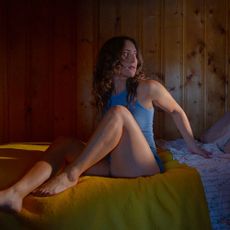 Tracklist
Disciple Song
Walk in the Dark
Looking for the Right Things
You Got It Right
Mount Washington Phone Company
Hunger
For
Just as a Child
Noon of Love
PFS
What Are You Reading?
Only Mystery
Dinked Edition 212

- "Golden Hour" coloured vinyl *
- Signed & hand-numbered postcard *
- Limited pressing of 400

* EXCLUSIVE to Dinked Edition