Big Joanie
Back Home
DAYDREAM LIBRARY SERIES
---
Big Joanie instore & signing.
Tuesday 8th November 2022, 6.30pm
(all ages - under 14s can come for free)
preorder any format above with "instore entry" for guaranteed priority entry for you & a guest.
a dramatic leap forward for the band; 'back home' builds on their tightly knit, lo-fi punk formula to bring forth a collage of blazing guitars, down tempo dance punk, and melancholic strings that evoke the full depth of the band's expansive art punk vision. The album title references a search for a place to call home, whether real or metaphysical. "We were really ruminating on the idea of a home and what it means," explains Stephanie. "It's about the different ideas of home, whether that's here in the UK, back in Africa or the Caribbean, or a place that doesn't really exist; it's neither here nor there." The band worked with multidisciplinary artist Angelica Ellis to design the striking embroidered cover art, which is a depiction of Chardine's nephew at the barbers. The artwork is a reference to the embroidered wall hangings popular in Caribbean homes post-Windrush that were a callback to the homes they left behind. The album's strength lies in the band's bold and varied new sound. Album opener 'Cactus Tree' is an eerie, gothic folk tale that tells the story of a woman waiting for her lover while a wall of euphoric harmonies and screaming feedback roll in the background.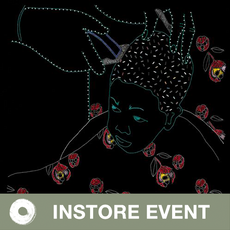 Cactus Tree
Taut
Confident Man
What Are You Waiting For?
In My Arms
Your Words
Count to Ten
Happier Still
Insecure
Today
I Will
In My Arms (Reprise)
Sainted