other titles...
See also...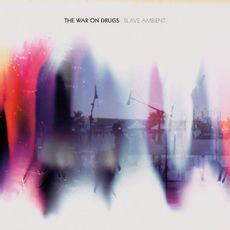 Disc 1
1. Best Night
2. Brothers
3. I Was There
4. Your Love Is Calling My Name
5. The Animator
6. Come to the City
7. Come for It
8. It's Your Destiny
9. City Reprise #12
10. Baby Missiles
11. original Slave
12. Black Water Falls

Disc 2 (Future Weather EP)
1. Come to the City
2. Baby Missiles
3. Comin' Through
4. A Pile of Tires
5. Comin' Around
6. Brothers
7. Missiles Reprise
8. The History of Plastic

The War On Drugs
Slave Ambient
Secretly Canadian
*** RESIDENT ALBUM OF THE YEAR - 2011 ***

1 - resident top picks of 2011
Slave Ambient :
a brilliant 47-minute sprawl of rock 'n' roll which melds myriad influences into a rich, meaty stew. philadelphia's the war on drugs are the vehicle of adam granduciel, frontman, rambler, shaman, pied piper guitarist & apparent arranger (kurt vile is still just about in the band – he only features on 2 tracks). 'slave ambient', their 2nd album proper, is tom petty & spacemen 3, 'neu! '75' & 'blood on the tracks', flying saucer attack & bruce springsteen, new order & no wave, the byrds, bread & burt bacharach all melted into a puddle of glorious sticky goodness under the haze of the summer sun. synthesizers fall where you might expect electric guitars (& vice versa) & country rock sidles up to the warped extravagance of '80s pop. from the instant classic 'baby missiles' (part springsteen fever dream, part motorik anthem) to the hillbilly power drone of 'original slave', this album is immense! highly recommended.

Future weather ep :
as with, 'slave ambient' this ep has adam granduciel in the pivotal role (it seems kurt vile was busy writing the excellent 'smoke ring for my halo'). 'baby missiles' rocks it the boss style but drenched in reverb & 'comin' through' recalls 70s fleetwood mac but war on drugs are entirely their own beast. joyously upbeat & obviously hitting their stride. these are no mere left over - easily as good as anything on the album! "so used, as we are, to being pummelled with outtake, cover version & bootleg filled eps, the expectancy has been substantially lowered. it's rare to hear one as fully formed as 'future weather'" – thelineof best fit.