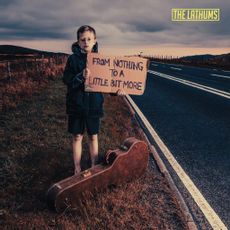 this exclusive 36-page perfect bound book includes:
exclusive photos and designs
lyrics and a handwritten note from the band
+ standard album cd – feat. 'say my name', 'struggle' and 'sad face baby'
1. Struggle
2. Say My Name
3. I Know Pt. 1
4. Lucky Bean
5. Facets
6. Rise And Fall
7. Sad Face Baby
8. Turmoil
9. Land And Sky
10. Crying Out
11. Understanding
the lathums
From Nothing To A Little Bit More
island
Ambition and euphoria meet the 'sad and strange' as indie sweethearts The Lathums deliver their phenomenal second album.
Say My Name is the first concrete indication that the same, fresh sense of possibility surrounding the band's enhanced stage set-up has followed them into the studio. Lyrically emotive, running river deep for front man, Alex Moore, yet audaciously stitched with stadium-sized guitars and brooding rhythms, the statement single found its voice with Jim Abbiss (Adele, Arctic Monkeys, Bombay Bicycle Club) in the album producer's chair. Reflecting on the track, Moore says: "'Say My Name' is a more recent song and, like everything we seem to do, has profound personal meanings. It's a conversation with someone who has gone, with them speaking to the person who is alive, saying the things that they want to hear."