abracadabra
shapes & colors
melodic
---
Welcome to the magically wonky wonderland of this California duo whose album is a dazzling collage of psych-fuelled synthscapes & contemporary Baroque-pop.
A block party soundtrack as eclectic as it is infectious!

Hannah Skelton (Vocals, Synthesizers) & Chris Niles, (Bass, Synthesizers) constructed the angular 80s-tinged anthems (think John Hughes montages to Talking Heads) of their new album, to bring love & light into a pandemic-imposed dark space, casting a bright rainbow over these grey days. Diving into decades of electronica & crunchy sound effects, field recordings & animal sounds, blended with an infectious Latin influence, 'shapes & colors' shimmies with charismatic energy. abracadabra is your new noisy neighbour & there's no turning this party down!
FOR FANS OF: Deerhoof / ESG / Tom Tom Club / Lizzy Mercier Descloux / Stereolab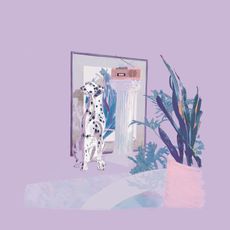 talk talk
in a photo
telling time
swim
inyo county
don't like u
impactor
at the zoo
shapes & colors
dawn of the age of aquarius
dinked edition 231:
- "Slate Grey" lp*
- Flexi disc with dub mix of 'swim'*
- Signed postcard*
- Printed die-cut inner
- Download Code inc. the bonus dub mix*
- Limited pressing of 400

*Dinked Edition EXCLUSIVE