other titles...
See also...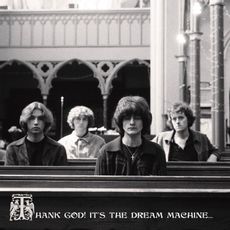 Lola, In The Morning
Tears
Children, My England
Sweet Mary
TV Baby/Satan's Child
The Time Around
White Shadow Blues
Intermission
Away For The Summer
The Last Temptation
Always On My Mind
Angel Of The North

Dinked edition 237

- "Skunk Skin" colour vinyl *
- Bonus Napalm Orange 7" *
- Signed unique print *
- Numbered edition *
- Limited pressing of 300 *

*EXCLUSIVE to Dinked Edition
The Dream Machine
Thank God! It's The Dream Machine…
modern sky
This one made immediate fans out of our ears – it's an irresistible shot of bone-tingling psychedelic rock! Timeless, yet inventive; for us, it's an instant classic.


A self-produced collection of 12 tracks exploring everything from love and loss to angels, dogs and The Devil, Recorded on an 8-track in the winter of 2021 in the band's rehearsal space. The album treads an exhilarating path of 60's inspired pop anthems, psychedelic-tinged country, punk, doo wop and everything in-between.

For Fans Of: The Coral, The La's, The Growlers, Last Shadow Puppets, The Lathums