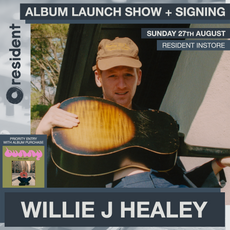 Woke Up Smiling
Dreams
Tiger Woods
Thank You
Bumble Bee
Black Camaro
Sure Feels Good
Chrome
Late Night Driving
Little Sister
Morning Teeth
Bumble Bee Reprise
Bluebird
Willie J Healey
'Bunny' album launch show
at resident music, brighton - sunday 27th august 2023 (all ages - under 14s can come for free)
we can't wait to have Willie j healey perform in the shop this sunday! we have been captivated by him ever since his debut.
•running timings : 6:30pm start.
• no actual tickets are issued for the show – you will get an order confirmation & your name will be added to the guestlist - you'll just need to give your name on the door.
• the release date for physical copies of this album is 25th august 2023. if you are wanting to get your record signed we would advise selecting 'pick up in shop' as you will be able to collect the album at the show.
• please wait for an order notification to show your album is ready to collect before coming in to collect your copy.
• this page is for entry to the willie J healey instore show - to purchase signed copies of 'bunny' without entry to the show, please head here.