English Teacher
Song About Love
speedy wunderground
---
Marking their first release of what promises to be a formidable twelve months, Leeds indie heavyweights English Teacher's newest cut sees them partner with Speedy boss Dan Carey.
Enigmatic bandleader Lily Fontaine explains: "It's a pop song about doing chores instead of doing someone else, and how even songs with social or political themes that analyse contemporary discourse, rather than lyricism about tired themes like romantic love, still come from a place of love, or lack thereof.
The final record is one of the first takes we did in the studio, thanks to the atmosphere Dan and Speedy create to work in. It was a relief to finally get into the room and discuss our music and music in general; what came out the other end certainly couldn't have happened in another space, with another producer or on another day".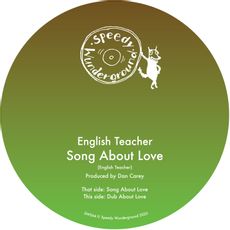 Song About Love
Dub About Love