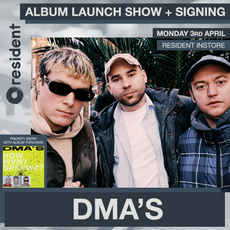 How Many Dreams?
Olympia
Everybody's Saying Thursday's The Weekend
Dear Future
I Don't Need To Hide
Forever
Fading Like A Picture
Jai Alai
Get Ravey
21 Year Vacancy
Something We're Overcoming
De Carle
DMA'S
'How Many Dreams?' Album Launch Show
at resident music, brighton - monday 3rd april 2023 (all ages - under 14s can come for free)
join us on 3rd april as dma's head our way to celebrate the release of what might be their most ambitious album yet!
• running timings : 6:30pm start.
• no actual tickets are issued for the show – you will get an order confirmation & your name will be added to the guestlist - you'll just need to give your name on the door.
• the release date for physical copies of this album is 31st march 2023. you will be able to collect the album at the show.
• please wait for an order notification to show your album is ready to collect before coming in to collect your copy.
• this page is for entry to the dma's instore show - to purchase signed copies of 'how many dreams' without entry to the show, please head here.