other titles...
See also...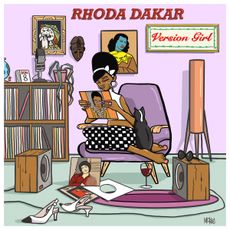 Version Girl
Stop Your Sobbing
Everyday is Like Sunday
What a Wonderful World
Hangin' 'Round
Song to the Siren
Walking After Midnight
The Man Who Sold The World
Comme Un Arbre
As Tears Go By
Love Hurts
Peace, Love and Understanding
RHODA DAKAR
VERSION GIRL
Sunday best
Rhoda Dakar is back with her first solo album in seven years, with a collection of reggae and ska covers by artists and songwriters she admires.
Rhoda Dakar began her musical career as lead vocalist with all female 2Tone band, The Bodysnatchers. They only ever released two singles, 'Let's Do Rocksteady' and 'Easy Life'. After a year together they split and Rhoda went on to guest with The Specials in Europe and the USA, having featured on their second album, 'More Specials', for which she won the first of her seven gold records. After their demise, and before joining Jerry Dammers' new project, she recorded The Bodysnatchers' first original song, 'The Boiler', a harrowing tale of date rape, which was inevitably banned. The Special AKA spent the next two years recording 'In The Studio', spawning a top ten hit with 'Free Nelson Mandela'.