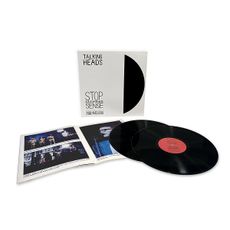 Side One
3.
Thank You For Sending Me An Angel'
Side Two
1.
Burning Down The House
Side Three
2.
This Must Be The Place (Naive Melody)
4.
Big Business / I Zimbra *
Side Four
4.
Crosseyed And Painless
* Previously Unreleased
TALKING HEADS
Stop Making Sense (Deluxe Edition)
RHINO
The 'Stop Making Sense' full concert for the first time ever on vinyl.
The track list includes previously unreleased tracks "Cities" and "Big Business/I Zimbra". The concert film presents a retrospective of the band up to that point, with a performance that weaves together songs from all six of its studio albums. The show progresses methodically, opening with Byrne onstage performing "Psycho Killer" alone with a drum machine. After each song, he's joined by a new band member until Weymouth, Frantz, and Harrison are all on stage with him.

The group continues to grow throughout the concert as members of the stellar touring band are added: keyboardist Bernie Worrell, percussionist Steve Scales, guitarist Alex Weir, and back-up singers Lynn Mabry and Ednah Holt. The band performs 18 songs in Stop Making Sense, including its recent single at the time, "Burning Down The House." That summer, the song was in heavy rotation on radio and MTV, helping the song become the band's first top 10 hit in America. It was, however, a different song from Speaking in Tongues that was destined to deliver one of the film's signature moments. Byrne would perform "Girlfriend Is Better" wearing his now iconic, oversized business suit inspired by costumes worn in traditional Japanese theater. For good measure, a picture of him in the suit also graces the album cover.