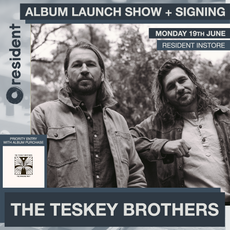 i'm leaving 
oceans of emotions 
take my heart
london bridge
carry me home 
blind without you
rich man
remember the time 
what will be 
The Teskey Brothers
'The Winding Way' album launch show
at resident music, brighton - monday 19th june 2023 (all ages - under 14s can come for free)
After selling out the brighton dome The teskey brothers will be returning to brighton to celebrate the launch of their new album 'the winding way'
running timings : 6:30pm start.
• no actual tickets are issued for the show – you will get an order confirmation & your name will be added to the guestlist - you'll just need to give your name on the door.
• the release date for physical copies of this album is 16th HUne 2023. if you have selected 'pick up in shop' you will be able to collect the album at the show.
• please wait for an order notification to show your album is ready to collect before coming in to collect your copy.
• this page is for entry to the teskey brothers instore show - to purchase signed copies of 'The winding way' without entry to the show, please head here.