PINK FLOYD
A MOMENTARY LAPSE OF REASON - REMIXED & UPDATED
pink floyd records / warner music
---
By returning to some of Richard Wright's original keyboard takes, and by re-recording new drum tracks with Nick Mason, producers David Gilmour and Bob Ezrin have restored a better creative balance between the three Pink Floyd members.
The album also showcases new and updated artwork with a previously unused image from the original photo shoot featuring the iconic beds on the beach.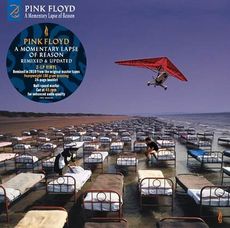 Signs Of Life
Learning To Fly
The Dogs Of War
One Slip
On The Turning Away
Yet Another Movie
Round And Around
A New Machine Part 1
Terminal Frost
A New Machine Part 2
Sorrow
deluxe edition exclusive bonus material:
music videos -
Learning To Fly
Album cover photo shoot 1987
Learning To Fly (alternate version).
Concert screen films 1987 -
Signs of Life
Learning Fly
The Dogs of War.
Documentary -
David Gilmour & Storm Thorgerson – interview.
Live tracks -
The Dogs Of War (live, Atlanta 1987)
On The Turning Away (live, Atlanta 1987)
Run Like Hell (live, Atlanta 1987)
Surround Sound Audio -
A Momentary Lapse of Reason (Remixed & Updated) 5.1 Dolby Digital (48/16)
5.1 dts (48/16)