STATUS QUO
Aquostic II - That's A Fact!
umod
---
This is the follow up to the phenomenally successful album from 2014, 'Aquostic (Stripped Bare)'.
After 50 years at the top of their game as one of the world's premiere rock acts, Quo have leapt out of their comfort zone and now give the songs the chance to shine in a stripped down format; the amps are turned off, this album is fully acoustic and boasts 25 completely reworked Quo hits & fan favourites. Stripped of the power of the famed twin-Tele assault it's time for the melodies and the band's innate musicianship to shine through. Tracks are taken from across the band's incredible output throughout the decades; some permanent features of the electric setlist, others being issued into the limelight for the first time, with two brand new tracks.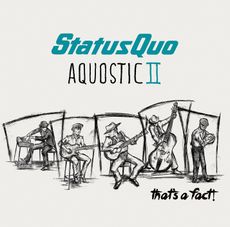 Tracklist
That's A Fact
Roll Over Lay Down
Dear John
In the Army Now
Hold You Back
One For The Road
Backwater
One Of Everything
Belavista Man
Lover Of The Human Race
Ice In The Sun
Mess Of The Blues
Jam Side Down
Resurrection
Lies
Little Dreamer
Living On an Island
Is Someone Rocking Your Heart?
Rockers Rollin'
Disc: 2 And It's Better Now (Live in Stuttgart)
Pictures Of Matchstick Men (Live in Stuttgart)
Don't Drive My Car (Live in Stuttgart)
Claudie (Live in Stuttgart)
Whatever You Want (Live in Stuttgart)
Rocking All Over The World (Live in Stuttgart)