other titles...
See also...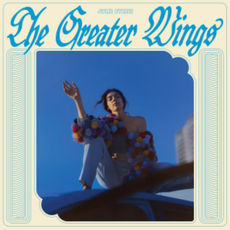 'the greater wings' booklet
The Greater Wings
Portrait Of A Clear Day
Moonless
Summer Glass
Summer's End
Lightning Comes Up From The Ground
Flare
Conversation Is A Flowstate
Hope's Return
Death Is The Diamond
julie byrne
The Greater Wings 
Ghostly 
There's a meditative quality to Byrne's folk that comes to the fore on her first album since the passing of her longterm collaborator, Eric Littmann.
Her third album utilises Byrne's unique ability to create otherworldly folk and could be considered a platonic love letter to a close friend gone too soon, despite being part written and recorded prior to his passing. In this sense, it takes on a similar spiritual quality to Nick Cave's 'Skeleton Tree' - a recorded channeling of emotion that, even when it's not referenced, pours out of every syllable. While both are contemplative, Byrne remains lighter and more hopeful, tying her loss to nostalgia and memory.