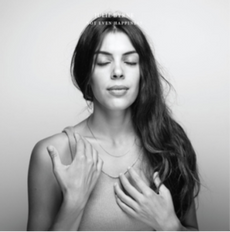 Follow My Voice
Sleepwalker
Melting Grid
Natural Blue
Interlude
Morning Dove
All The Land Glimmered Beneath
Sea As It Glides
I Live Now As A Singer
julie byrne
Not Even Happiness (2023 repress)
basin rock
*** RESIDENT ALBUM OF THE YEAR - 2017 ***
Spectral intimacy, otherworldly production and a subtle mix of tempos – the beguiling Seattle vocalist/guitarist's sophomore has been unequalled all year.
With the overwhelming amount of glorious music we are exposed to here, it takes a record with serious legs to stick with us all year. Released back in January, this one still comes out on top. It's fair to say we do have a slight leaning towards ethereal modern folk (the likes of Phoebe Bridgers, Jesca Hoop and Bedouine have all been Albums of the Week this year) but even against this level of competition, it's Julie's lilting American folk that's won every one of us over. It pulled us through those late winter months at the beginning of the year and it will see us through the coming ones and way beyond too.
It's the deceptive simplicity that draws you in – she sticks to a deliciously restrained palette that most artists are too afraid to leave themselves exposed to. The crisp space between the vocals and instrumentation creates a weightless purity to these songs that transports you from this chaotic, nonsensical world into a place of restorative calm. Yet behind this sparse facade, lies a remarkable depth and that's what keeps you coming back for more, time and time again. Hooked.
On the road since 18, Byrne has travelled the roads and spaces she sings of and the encapsulations of her experiences are irrevocably entwined with her widescreen, poetic descriptions of the places that she's seen. Each track carries its emotional heft in a panoramic and romantic view of both wide open American landscapes and the claustrophobic cities.
Her irresistibly alluring voice (which has prompted comparisons to Anne Briggs, Judee Sill, Joni Mitchell and Karen Dalton) make this a warm and comforting listen – like an aural blanket from the Laurel Canyon. Although these oft cited musical reference points are entirely appropriate, there is a wonderful modernity to her organic & timeless sound, enhanced by the inclusion of subtle electronic elements. The pristine production evokes Bon Iver's 'For Emma, Forever Ago' where as much is said between the spaces, as within the songs themselves and the overriding mood recalls Nick Drake's 'Pink Moon'.
'Sleepwalker' contains moments of Sandy Denny brilliance and a loose, beautifully finger picked melody that'd make Bert Jansch proud. 'Natural Blue' is, at heart, a sun bleached Carole King love song, stripped of all pomp save for her guitar, a softly swelling synth and some carefully arranged Bjork-esque violin that, despite having very little chorus, nestles in your head. 'I Live Now As A Singer' utilises understated The Stars Of The Lid-like analogue synths and violin which sound like the accompaniment to a solemn hymn, while Byrne's voice carries all melody and meaning before melting away into the synths and coming back for a final lament. The perfect closer. It most immediately recalls the title track of Nick Cave's 'Skeleton Tree' – our Album Of The Year 2016 – which brings us nicely full circle.
For some of us, 'Not Even Happiness' was an immediate winner – love at first sight - but for others it's been a slow burning affair where its true beauty has gradually emerged. Either way, it's proven itself to be a genuinely unrivalled album that's melted the unlikeliest of hearts. Let it melt yours too.
Buddy recommends: "An incredibly beautiful record all the way through - Her voice is utter perfection and glides over the luscious string arrangements and subtle fingerpicked guitars".

Derry recommends: "2017 is shaping up to be the year of lo-fi folk inspired singer songwriters moving (ever so slightly) further into more mainstream consciousness as Nadia Reid, Aldous Harding &, especially, Julie Byrne release even better follow ups to their brilliant debuts"

Kurtis recommends: an album that exudes confidence and sensuality. a modern day Joni Mitchell"

James 2 recommends: "I'm a sucker for ethereal folk that sounds like it's from another plane – sandy denny had it, Karen Dalton had it and Julie byrne definitely has it. A totally unique voice, gorgeous, minimal jansch-y finger plucked guitar and an otherworldly style make this album a crucial listen. It was one of the first albums I bought this year and it's not been surpassed"

"otherworldy and other-timely...for all its dreaminess, it never seems fey or contrived... stunning" - The Guardian

"Listening to 'Not Even Happiness' is like being wrapped up in blanket as a child; it gives you comfort and more than a little reassurance, whatever the future may have in store" 8/10 – the line of best fit