other titles...
See also...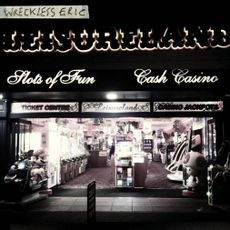 Southern Rock
Inside The Majestic
Badhat Town
Intermission
Standing Water
Standing Sunday Morning
The Old Versailles
Dial Painters (Radium Girls)
The Tipping Point
High Seas (Won & Lost)
On The Move
Esplanade By Moonlight
They Come Free With Cornflakes
Zoom (Glittering In The Sun)
Drag Time
Wreckless Eric
LEISURELAND
tapete
Newhaven's most famous son imagines a new haven for this beautiful (and relatively hi-fi) record - keep your ears out for the secret sniff he's buried in there somewhere!.
a return to his more ramshackle world of recording – guitars and temperamentally unpredictable analogue keyboards, beat-boxes and loops in conjunction with a real drummer, Sam Shepherd, who he met in a local coffee shop in Catskill, New York. He was delighted to find that Sam lived around the corner and could easily drop by to put drums on newly recorded tracks. The recording methodology may have been Contemporary American but the subject matter is almost entirely British. It also contains more instrumentals than any of his previous albums.