other titles...
See also...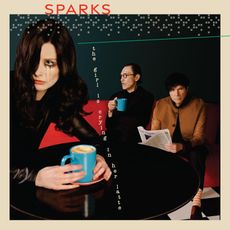 The Girl Is Crying In Her Latte
Veronica Lake
Nothing Is As Good As They Say It Is
Escalator
The Mona Lisa's Packing, Leaving Late Tonight
You Were Meant For Me
Not That WellDefined
We Go Dancing
When You Leave
Take Me For A Ride
A Love Story
It's Sunny Today
It Doesn't Have To Be That Way
Gee, That Was Fun
SPARKS
The Girl Is Crying In Her Latte
island
The Mael revival continues! Despite being a band for just shy of 60 years, the brothers are in a purple patch and writing some of their best music, still unafraid of pushing their creative impulses to the limit.
Inimitable, ingenious and, as ever, utterly one of a kind.