other titles...
See also...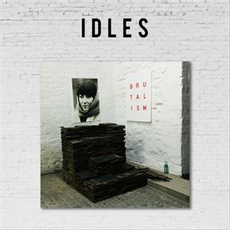 Heel / Heal
Well Done
Mother
date Night
Faith In The City
1049 Gotho
Divide And Conquer
rachel Khoo
stendhal Syndrome
Exeter
Benzocaine
Slow Savage

idles
brutalism
Balley Records
Snarling and gnarly wit-punk - an explosive debut that's barely left our shop stereo - Hang on to something, it's about to get wild!
The Bristolian punks define the manifesto of this record in three simple words: Don't Go Gentle.
It is an honest, angry, uncompromising, yet optimistic album that will leave you begging for more. They take no prisoners over the next 13 tracks. Guitars hit you like jagged waves cascading from every angle, while the drums and bass pummel you into submission, holding everything together….just. Like the ferocious representation of modern society it sets out to be, it always feels as if we're on the edge of collapse with Idles. Weaving in and out of rock and punk with plenty of pop hooks thrown in, they've mastered the balance between aggression and melody to keep your attention throughout. It's impossible not to sing or hum along... or indeed thrash about like a deranged nutter.
Commenting on social and political issues ranging from depression, class mentality, to the NHS and art, Joe Talbot's acerbic lyrics probably elucidate 2017's challenges better than most (and plenty have tried). Not a word is wasted throughout. He spits his thoughts and feelings at us as if he's against the clock. There's plenty of humour within the darkness of the lyrics though – so much so, that'll you'll frequently find yourself laughing out loud at their infinitely quotable take on the world:How many optimists does it take to change a lightbulb. None! Their butler changes the lightbulb.""Why don't you get a job? / Even Tarquin has a jobMary Berry's got a job / So why don't you get a job?The best way to scare a Tory is to read and get rich""Did you see that selfie what Francis Bacon did?Don't look nothing like him, what a fucking div"
There is an unrelenting and rousing energy to the album. It hurtles towards you and knocks you for six. By only allowing themselves three takes for every song, you feel the immediacy and passion they put into their work. Their live shows are notorious and so often this dynamism is lost in the studio but thankfully that's not the case here. If you haven't yet caught them live, do so ASAP. It's always an experience to behold and treasure.
You find yourself getting pulled further into their world with each listen - a place where you'll feel a part of something real. It represents an understanding that when times are bleak there is something worth fighting for. It's a record that feels vital to its time, a call to arms for the voices going unheard.
Buddy recommends: "honest, angry and uncompromising debut album that has not left my record player since its release date - Don't go gentle!"

Javi Recommends: "snarling and gnarly wit-punk - favourite lyric of the year so far goes to "the best way to scare a Tory is to read and get rich""

Kurtis recommends: "perfect antidote to austerity Britain"

mark recommends: "as the name suggests, a brutal, snarling and addictive debut - Well done!"

"pumped up kicks in steel capped footwear'" 9/10 - godisinthetv