other titles...
See also...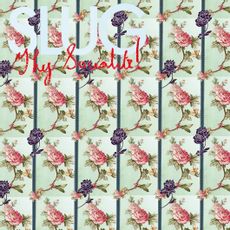 Insults Sweet Like Treacle
Please Turn It Up
Casual Cruelty
Instant Reaction
Honestly Subjective 'Bout Your Own Thing
Lovingly Legerdemain
Wow (Whatta Gurl)
Depends On What You Think Is Nice
Be a Good Martyr!
Settled With a Wink
I Love That Actually
Silly Little Things That We Do
Cut of Your Jib
dinked 222
"Brain surgery red" vinyl*
Alternate Dinked sleeve *
Signed art print *
Limited to 300 *
*EXCLUSIVE to Dinked Edition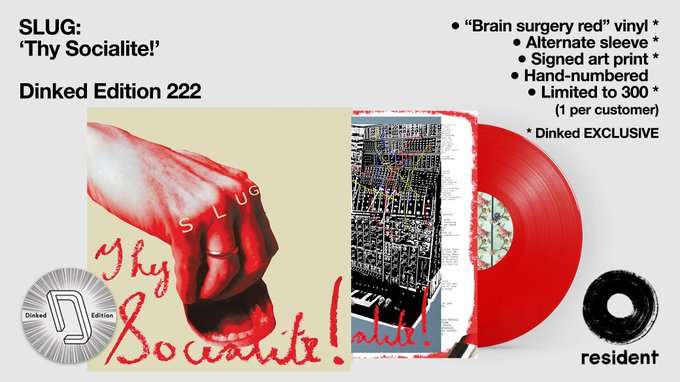 Slug
Thy Socialite!
Memphis Industries / Daylight Saving Records
Hard rock, glam, prog & pop all on one audacious record? Oh yes – it's the return of SLUG!! Ranging from arena to art school, Ian Black's work is as fun & unpredictable as ever as he continues to push his music in a conceptually smart, ambitious & adventurous direction.
"Thy Socialite!" will be released next year via a brand new label formed by Field Music's Peter & David Brewis.

"This seemed like the perfect start for Daylight Saving Records," says David. "We've always loved what Ian does and it's been a thrill over the years to help Ian dig these wild musical ideas out from his brain. Now we can have a hand in putting them into people's ears too."

We're super proud to be part of the launch of our beloved Brewis Borthers' new project.

"I wanted to include a more rockist palette," Black says. "I wanted to see what I could get out of less indie audience friendly artists such as Toto, Sweet, Wings, Def Leppard and ZZ Top and merge it with a SLUG sensibility. Due to the more rock approach, I was happy for the album to become a big classic rock unit - pompous even."

However, simply a pastiche & nostalgic throwback this isn't. Despite the playful nods to some of the more grandiose, theatrical & overblown elements of the aforementioned genre, it's also an album with a contemporary pop edge, slick production & a tangible connection to SLUG's previous deft mix of indie, rock & art pop.